The Ultimate Fighter
Slate
June 8, 2016
Kimbo Slice's street fights made him a viral video star. His mixed martial arts bouts made him mortal.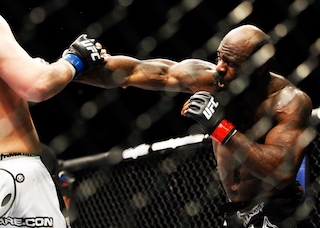 Conor McGregor vs. Himself
ESPN.com
July 9, 2015
He's brash, charismatic and some say unproven. Don't tell that to the UFC, which is betting on Conor McGregor to be the star it needs to vault MMA into the mainstream.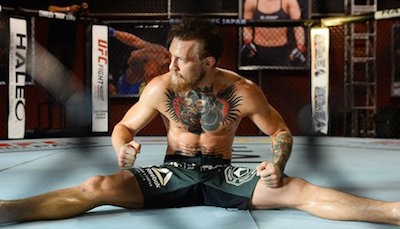 The Beast Of Brazil: A Savage Trip To The Dark Heart Of The World Cup
Howler Magazine [republished by Deadspin]
Winter 2014
I'd heard many dire things about Manaus before arriving in late June for the USA vs. Portugal match. The city was said to be awash in crime. The jungle could kill you in minutes. The soccer stadium was an impossible waste of space. Was any of it true? I had 72 hours to find out.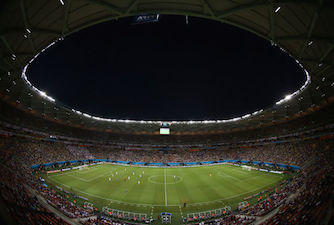 Slate World Cup Brazil Coverage
We Are Soccer Adults Now: How Jürgen Klinsmann helped the American team come of age in Brazil
Let's Get Cynical: Uruguay and Italy drag a beautiful World Cup back into the muck
Lady Luck, Wrapped in an American Flag: How the U.S. men's national team finally beat Ghana
How the World Cup Made Brazil Hate Its Own National Team


Hot Pursuit
Town & Country
September 2013
For 162 years, it's been one of the most prestigious sporting competitions on the planet. But now Larry Ellison has transformed sailing's ultimate challenge into an extreme event: cutting-edge catamarans, record speeds and headline-making capsizes. One sailor is already dead. Ellison's Oracle team has already been caught cheating. Is the America's Cup all at sea, or will 2013 be the greatest, most watched race ever?

The Great Strike Hope
Slate
August 16, 2013
On Wednesday the U.S. men's soccer team beat Bosnia-Herzegovina 4–3 in Sarajevo. It was the first comeback victory in Europe for the Americans, their first 12-game win streak (currently the world's longest), and possibly the first time Team USA sent so many foreign fans fleeing for the exits early in their own stadium. But all those firsts shrink next to this one: An American striker finally looked like a "world-class" player.

America's Most Important Soccer Player Conquers The Old World
Howler Magazine
Summer 2013
Michael Bradley has become the heart of the U.S. national team, its irreplaceable engine and likely future captain. I traveled to Rome to observe him in his new element -- playing professionally for AS Roma in front of the 21st century equivalent of Caesar's howling mob. [Deadspin republished this piece.]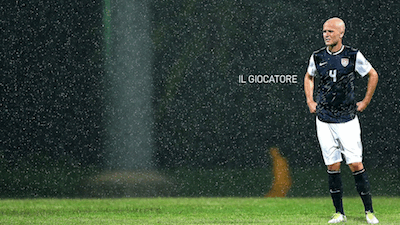 Olympic Training Secrets
DETAILS
August 2012
Thirteen of the top American hopefuls at the London Olympics share their tricks for getting a gold-medal physique. This is part of an Olympics package for DETAILS that also includes technological advances and trivia about the Games.

The Last Act Of The Notorious Howie Spira
Deadspin

October 26, 2011
When Howie Spira showed up in my office one day to discuss his life, I didn't know what to expect. Here was the man who got George Steinbrenner banned from baseball in the 1990s. The gambler turned blackmailer who sold dirt on Dave Winfield. The lowlife behind one of the most shameful moments in Yankees history, and proud of it.
Spira had never-before-heard tapes of wiretaps of Winfield and Steinbrenner. And he had stories. About Steinbrenner and escorts, Winfield and a faked death threat. About organized crime: How he was one of the few people in New York to burn the mob over gambling debts and walk away without a limp. After two months of talking, Spira would reveal that—just like Steinbrenner—he had been a valuable FBI asset. It was true. Well, most of it was.

The Lonesome Independence Day of Kobayashi, Eater in Exile
Deadspin
July 4, 2011
On a May evening, in a cramped biergarten behind a German restaurant off the Bowery in Manhattan, Takeru Kobayashi sat down to a plate of Rheinischer Sauerbraten mit Kartoffelklößen und Rotkraut. First, he produced a small camera and began photographing the sauerbraten for his blog, where he catalogs his personal gustatory experiences. He was dressed in yellow pants, a summer scarf, and a blazer with multicolored markings resembling graffiti. Some nearby diners looked up when the camera flashed, but Kobayashi, the great Kobayashi -- the first person to devour 50 hot dogs at the Nathan's Fourth of July contest on Coney Island -- went unrecognized, in the city where he became a celebrity.
Kobayashi is living in New York, but he will not be at Nathan's tomorrow. The man and the event, having made each other internationally famous, are in a long-running contractual dispute, one which landed Kobayashi in jail after he showed up at last year's contest.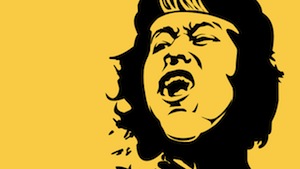 [RELATED: Kobayashi Somehow Sets A New, Totally Unofficial Hot Dog Eating Record]

Stay Soft, Dirk Nowitzki
Deadspin
June 15, 2011
Even before Dirk Nowitzki lifted a championship trophy on Sunday night, he was being held up as a new man. Nowitzki had reinvented himself, we were told. He'd finally "shed" the Euro-soft label plastered to him throughout his career and, to much adulation, morphed into the sort of rugged warrior that wins titles. The tale of an individual transforming himself to wrestle destiny into submission satisfies a special American yearning. In this case, it's obscuring an even more fundamentally American story.

The Truth About Race, Religion, And The Honor Code At BYU
Deadspin
April 13, 2011
While it's impossible to know how many students disobey BYU's honor code, which prohibits fornication and alcohol use, among other things, the honor code violations that come to light almost always involve student-athletes. And they almost always involve athletes of color. Since 1993, according to our research, at least 70 athletes have been suspended, dismissed, put on probation, or forced to withdraw from their teams or the school after running afoul of the honor code. Fifty-four of them, or nearly 80 percent, are minorities. Forty-one, or almost 60 percent, are black men.

GSP: The Evolution of the Ultimate Fighter
Men's Health
April 2011
Georges St-Pierre knows an unusual amount about megalodon, terror of the ancient seas. He speaks of it with grave importance; he wants to make clear that 2 million years ago, this predator, a shark larger than a city bus, went extinct. Poof. As did the American lion, the short-faced bear, and several other giants whose Latin names sound musical in his Quebecois accent. And why does he care so much about this? "In fighting, in evolution, in life, efficiency is the key," says St-Pierre, who hopes to one day return to school to study paleontology. "It's not the most powerful animal that survives. It's the most efficient."

Deadspin MMA Coverage
The UFC-Deadspin cycle covers assorted tommyrot surrounding the fight game.
UFC 128: A Hero Is Made And Dollars Are Born
UFC 118: Boxing's Fat Fool Goes Down, And UFC's Juggernaut Rolls On, Now With Tits And Air Cannons
UFC 118: The Wit And Wisdom Of James Toney, MMA's New Big Swinging Freak Show
SPECIAL: "It Looked Like A Butterflied Shrimp": A Cutman's Tour Of 12 Terrible Fight Wounds
UFN 20: Suburban Hell, Blood Loogies, And The Glorious Return Of The Hipster Warrior
UFC 104: Zombies, Blind Men and the False Triumph of the Piss-Drinker
UFC 104: Urine for a Good Fight
UFC 101: Beating Pipes, Disgusting Bloggers and Gerard Butler's Furiously Shaken Pud
UFC 101: Hipster Warriors, Chest Hair and the Return of Sanctioned Violence to Philly
Philly beating pipe and rose for victim:


How FIFA Botched the World Cup
Newsweek
June 23, 2010
A harebrained hotel and ticket scheme—and a sweetheart deal on behalf of the president's nephew—made it impossible for thousands of ticket-owning foreigners to visit South Africa for the games.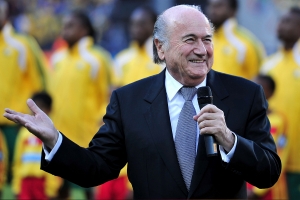 Star-Spangled Bummer
Slate
June 27, 2010
RUSTENBURG, South Africa—If you drive outside the main cities in South Africa, you will always find a fire burning. Beside a highway. In a field. On a dirt patch, men huddled around its warmth. I saw many such blazes on the road from Pretoria to Rustenburg as I made my way to the round of 16 match between the United States and Ghana. On Saturday night, the smoke from all of these fires seemed to pool in this hardscrabble mining town. It burdened the air, reducing visibility to a few feet, even with a full moon low in the sky. My traveling companions and I felt the hoodoo: Whatever happy energy once fueled the American adventure here had been replaced by apprehension.

Cursing, Jeering, Beer Flinging, and Joy
Slate
June 23, 2010
PRETORIA, South Africa—I never thought I'd see a man openly weep at an American soccer game. But then, I never thought I'd see anything like Wednesday's astounding U.S. win over Algeria.

We Tied! We Tied!
Slate
June 13, 2010
RUSTENBURG, South Africa—A few hours before the United States-England game in Rustenburg on Saturday, a curious détente took place in the bustling, if bizarrely named, P.H. Network Cafe across from the stadium. An English fan, swaddled in red and white, turned to an American fan, swaddled in red and white and blue, and gently communicated his desire for how the game would unfold: "Best of luck. I hope it's a draw."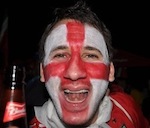 Deadspin World Cup Coverage
I roamed South Africa for several weeks during the 2010 World Cup. I saw much. Here's what I shared with America's most upright sporting blog.
Meet The USA's Tipsy, Slovenia-Trashing, Bathroom-Snoozing Miss World Contestant (Video)
Pickpockets And Super Afrikaners On The Other Side Of The Sausage Curtain
"Have You Had Any Black Girls?" Asked The Afrikaner With The Mohawk
The Shrieking, AIDS-Joking, Gulati-Taunting Ugly Americans Of The World Cup
The Boys Not On The Bus: Riding Around Solo On FIFA's Cravenly Shunned Media Vehicles
A Beauty In Joburg: Watching Slovenia-USA With The Ladies Of The Miss World Pageant
ESPN's George Bodenheimer Summons The Gods, And Other Tales Of Whoring
"If They Decide To Start Killing Us," The Young Afrikaner Said, "We Are Ready."
My Slow Grind With Landon Donovan's Ex: A Word From Our World Cup Correspondent

SI Kids Year in Sports Almanac 2009
Sports Illustrated for Kids
December 2008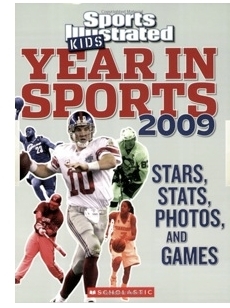 This handy almanac serves up everything the kiddies need to know about basketball, baseball, football, hockey, golf, tennis and more. It even has fun true/false sports trivia (answers at bottom):
1. Hall of Famer "Pistol" Pete Maravich died of a heart attack at age 40 after playing a pickup game with evangelicals in a Pasadena church.
2. In the mid-1890s, the best team in basketball was a group of amateurs from Trenton, New Jersey, whose uniforms consisted of long tights and velvet shorts and who played in wire cages through which opposing fans would hurl nails heated by mining lamps.
3. The soccer ball's traditional 32-panel design of pentagons and hexagons was developed by a mathematics professor at Belgium's Ghent University in 1970.
Answers: 1. True; 2. True; 3. False

He's With Tom
Boston Magazine
September 2008
He started out as a New England Patriots intern. Then Will McDonough made a very important friend, and got himself a much, much sweeter job. The most popular Boston Magazine story of 2008 delves into the mysterious world of Tom Brady's shadowy handler. Some say McDonough is coat-tailing. Others say he adds value to Team Brady. Which is it?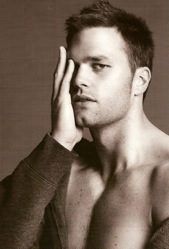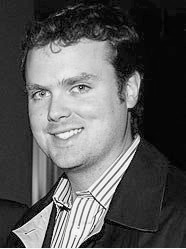 How Dangerous is MMA?
Rolling Stone
June 2008
Is stepping into the Octagon safer than it looks? A few recent studies suggest it is. MMA is almost certainly less damaging to the brain than the accumulated trauma of getting punched in the head for 12 rounds by a boxer. And it's often gentler than a chop block to the knees from a 300 pound lineman. [NOTE: No link. Apologies. RS has paywalled.]

Rolling in the Dirt
Yahoo! Sports
January 10, 2008
For racing devotees, there's only one place to be in January during the motorsport world's off-season: Tulsa's Chili Bowl Midget Nationals—the biggest, most-eclectic dirt-track race in the country. Car owners plan their year around it. Drivers spurn their regular circuits for it. And the Oklahoma dirt—sweet mercy, the dirt!—flies a good deal higher than an elephant's eye.

Anything Goes
The Washington Post Magazine
July 15, 2007
The speed, drama and violence of mixed martial arts have made it the fastest-rising sport since NASCAR. Washington's Mario Yamasaki, the man who brought Brazilian jiu-jitsu to DC, has been there from the start, breaking heads and saving lives. Follow Yamasaki from an Ultimate Fighting Championship fight in Las Vegas through the preparations for the first MMA event in DC history.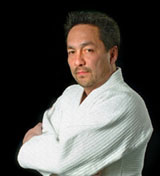 Dispatches From the World Cup
Slate
June 26, 2006
When Germany's resurgent soccer team takes the pitch these days, the country shuts down. People cut work and don Michael Ballack jerseys. The streets go quiet. No wonder Berlin's prostitutes were irritable on Saturday.

Knockout/Tapout
SF Weekly
June 15, 2005
Why mixed martial arts—a bloody blend of disciplines often called ultimate fighting—may replace boxing as America's mayhem of choice. Gilbert Melendez, one of the top lightweights in the world, takes us from his training camp to his pro bout in Tokyo, schooling us on MMA at a time when few people had even heard about the sport.